Palm oil industry seeks delay to deforestation law
The trade association representing EU chocolate associations and leading brands such as Mars, Cadbury, Ferrero and Nestle signed a statement against a key measure in the regulations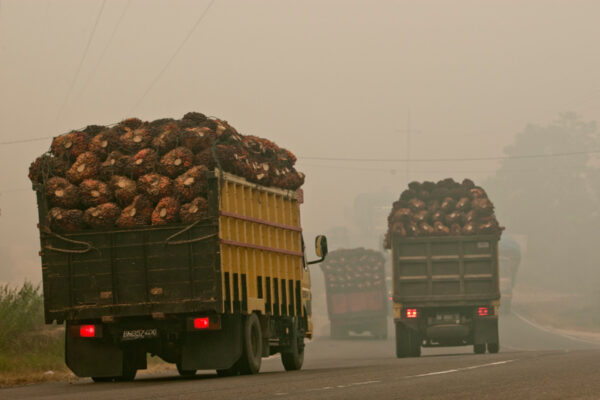 Trade groups representing the palm oil industry are urging the EU to postpone the commodity's compliance with a key component of its groundbreaking new deforestation law.
In a statement for policymakers circulated last week, eight leading industry associations suggested the law's application on palm oil products should be delayed until 2030, partly to avoid the impacts of global supply chain disruptions such as "the current war in Ukraine and its effects on global food security."
Among the groups that signed the statement is Caobisco – the association of chocolate, biscuits and confectionery industries of Europe – which counts among its members Mars, Nestle, Ferrero and Mondelez, which produces Cadbury chocolate.
If the current draft is implemented, the EU law would require traders of several commodities grown in deforestation hotspots (including palm oil) to demonstrate their product was not produced on deforested land before it can be placed on the European market.
Palm oil is associated with 10.5 million hectares of deforestation from 2001-15, making it the second biggest driver of deforestation behind cattle. 
This latest effort to weaken the proposed deforestation law follows an attempt by leading soya groups, which lobbied the European Commission whilst at COP26, Unearthed revealed earlier this year.
Industry claims
The palm oil statement says that national traceability systems in key producing countries like Indonesia and Malaysia are inadequate and so will undermine compliance by smallholder farmers, and calls for a feasibility assessment to be taken before the regulations come into force.
It goes on to argue that the regulations be "adapted to the specificities of different commodities, taking into account the current difficulties of the supply chains" and says tracing palm oil to mill rather than plantation should be acceptable for the EU.
"Traceability to mill together with its 50-kilometre radius monitoring of its supply base should be enhanced over time by 2030, with a view to achieve traceability to plantation," it reads.
"The EU should work with producing countries to remove the obstacles faced by smallholders and only require of them traceability to plantation once these obstacles have been satisfactorily removed."
Muriel Korter, the director general of CAOBISCO, disputed Unearthed's characterisation of the statement, saying: "Our industry is certainly not seeking exemption from deforestation law, and have in fact welcomed the objective of the European Commission proposal for a Regulation on deforestation-free products.  As outlined in the joint statement, traceability is possible in palm oil too, and the industry has been engaging through different initiatives/programmes to enhance traceability in the palm oil sector over the last years and have already reached high levels of traceability for palm oil."
"The 2030 date is more to allow smallholders to reach that level of traceability that plantations/estates already (can) achieve today. The joint statement calls for the development of palm oil specific guidelines that could (for example) include an action plan for enhanced traceability and transparency of the supply chain over time – horizon 2030.
"The Deforestation Regulation Proposal offers the possibility for gradual and continuous improvement towards deforestation-free products and more sustainable supply chains. Traceability requirements should take into account commodity specificities while ensuring a level playing field for the eradication of deforestation."
Smallholders response
The industry claims appear to contradict a statement issued by the smallholder farmers they claim to represent.
In March the Union of Oil Palm Smallholders in Indonesia (SPKS) released an open letter in support of the EU's deforestation proposal, and, responding to the industry's statement, told Unearthed: "We SPKS do believe in the smallholders capacity and ability (actually traceability is not hard to implement for smallholders, and it is not as expensive as the industry/company explanation). What we can do right now is to help and facilitate the smallholder so they are not left behind, and just only become the 'object' of big industry/company."
Aida Greenbury, the group's senior advisor on deforestation and sustainability, added: "What's really appalling with the industry statement is that they proposed to delay full traceability until 2030, meaning a high risk of palm oil from deforestation being mixed into palm oil entering EU.
"The smallholders are being used to hide the industry's irresponsible practices, including the lack in transparency in the supposed to be 'no-deforestation' supply chain. SPKS has clearly shown that it is straight forward to do traceability from the plot of land or plantation. There's no excuse to delay."
Siobhan Pearce, forests campaigner with the Environmental Investigations Agency, told Unearthed: "Numerous palm oil companies already have traceability to plantation commitments and have achieved traceability to plantation for their own mills, including tracing smallholders.
"Smallholder groups in both Indonesia and Cote d'Ivoire have stated they can comply with the traceability requirements and that traceability to plantation would actually help smallholders to get fair payments and identify where there are illegal practices that need addressing, for example. What is needed is support and clear provisions that assist smallholders, not a weakening of or a delay to the requirements."