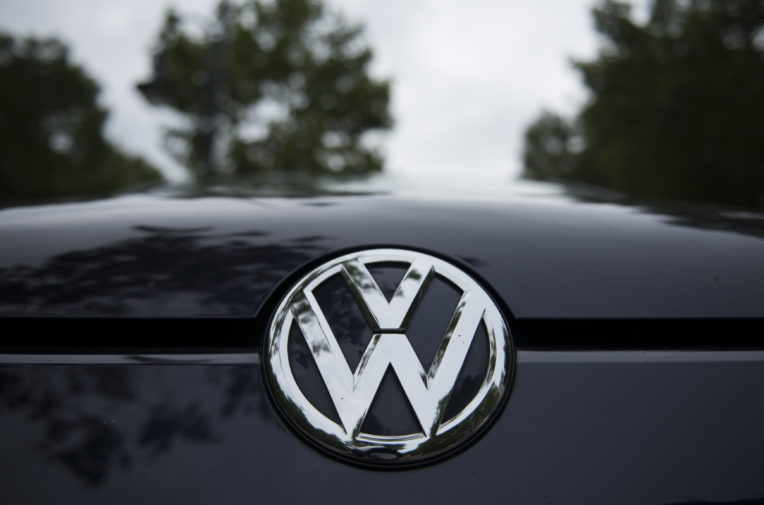 Volkwagen is the largest car company in the world. Photo: Steffi Loos/Getty
VW's dieselgate fix for US cars is 'far more effective' than its European one
The car giant is applying an effective - but expensive - change to US vehicles, while tests suggest that the cheaper European software fix makes only a small difference to emissions
VW's dieselgate fix for US cars is 'far more effective' than its European one
The car giant is applying an effective - but expensive - change to US vehicles, while tests suggest that the cheaper European software fix makes only a small difference to emissions
Volkwagen is the largest car company in the world. Photo: Steffi Loos/Getty
Volkswagen is applying an emissions-cutting change to its US cars after the dieselgate scandal that is "far more effective" than its cheaper solution for European models, experts have told Unearthed.
John German of the International Council on Clean Transportation, an engineer who helped to first expose the dieselgate scandal, told Unearthed: "The fixes in the US will make a huge difference to NOx emissions [nitrogen oxides]. By contrast the EU fixes are minimal and not much of a fix."
The conclusions – corroborated to Unearthed by two other experts – are based on an analysis of official documents filed with regulators, regulatory and company statements in the EU and US, and data from vehicle tests.
In Europe, third-party tests on some models suggest there is a 19-37% drop in nitrogen dioxide emissions in the real world after the changes – widely referred to as "fixes". Other tests and correspondence suggest that for some models the fix makes little or no difference at all. One expert said the change was little more than "a PR operation". 
The US fixes are likely to cause a 80-95% drop in NOx emissions, according to German, an assessment based on the limited data that has been made public and an assumption that the cars now meet US legal limits.
Dieselgate
The news comes in the week that the High Court starts hearing a legal case in which 50,000 VW owners are attempting to claim compensation from the car giant for selling them cars which they say they wrongly believed to be clean.
The dieselgate scandal saw VW accused in the US of using "defeat devices" – software that reduced vehicle emissions during regulatory testing in laboratory conditions, but not when driven in real-world conditions. VW pleaded guilty in the US to three criminal charges relating to the scheme and paid billions in fines, while several of its executives have faced criminal charges.
The regulatory concerns quickly spread to Europe, where Volkswagen has so far refused any compensation, but has issued a number of different "fixes" to reduce emissions of harmful nitrogen dioxide from numerous European diesel models.
The European fix seems to be simply a PR operation, with not much improvement in air quality
The latest revelations have sparked concerns that EU regulators have failed to demand sufficient action to reduce nitrogen dioxide from the company's vehicles compared to their US counterparts.  
Mary Creagh MP, chair of the UK parliament's environmental audit committee, said the discrepancy showed that ministers are "letting VW off the hook".
Weaker fix
Last year the US Environmental Protection Agency (EPA) and the California Air Resources Board (CARB) approved several different fixes designed to bring VW's US cars into line with rules on nitrogen dioxide emissions.
The most expensive fixes are estimated to cost over $1,000 (£700) per vehicle. Other solutions that require less hardware are believed to cost hundreds of dollars or less.
Meanwhile the changes made to the millions of recalled European vehicles only involve a software switch, so cost little more than the expense of the time required to design and make the changes.
Some European engines will also have a mesh installed by the air filter, which German said is "a minor measurement improvement that has little emission impact and probably costs about $10".
Both hardware and software changes can significantly reduce harmful emissions depending on how they are implemented, but experts believe the European changes will have far less real-world impact than those in the US.
The European fix "seems to be simply a PR operation, with not much improvement in air quality", Charles Tumelaire, a former diesel emissions engineer for rival Ford, told Unearthed.
"In the US [Volkswagen] had to change everything and it has cost them a fortune. In Europe, it has cost them a bit of money but it is nothing in comparison," he added.
Dr James Tate a transport expert at the University of Leeds agrees.
"There are significant differences between the fixes in the US and EU; they are very different solutions," he said. "Most of the US fixes require a completely different emissions control system. The EU fix is simply software changes that I don't expect will have a huge impact on emissions."
Volkswagen says it has not broken the law in Europe. The company told Unearthed that the legal frameworks in the US and Europe have different requirements, and the European fix is designed to "remove any doubt" that its vehicles are in compliance with the law.
Official tests
The impact of the changes made by VW is hard to measure because neither the regulators that approved the measures nor Volkswagen have published the results of testing done on vehicles after the fix.
Unearthed has obtained data from Californian regulators through a public records request that shows that post-fix nitrogen dioxide emissions for a model representing one type of US fix now fall well within legal limits in most on-road conditions.
Stanley Young, communications director at CARB, told Unearthed their settlement with VW had established "rigorous and detailed requirements producing durable modifications to emissions control systems that deliver the requisite reductions of harmful pollution in the real world".
VW could have applied a stronger fix to all EU models
In Europe, however, the law concerning the use of defeat devices is less specific than in the US.
Despite issuing fixes for its EU models Volkswagen says it has not broken the law in Europe, although this is being challenged by class action civil lawsuits.
Several countries – including the UK and Germany – are being prosecuted by the EU for failing to clamp down on VW following the diesel scandal. The firm has paid out £1m in the UK for the costs of retesting cars after the fix, but no compensation has been offered to consumers and no legal action has been taken by the government.
Volkswagen has paid over $20bn in the US to compensate consumers and alleviate pollution after coming to a settlement in court. Consumers have been offered a choice either of returning their affected vehicle or having it fixed and receiving compensation of up to $10,000 each.
Creagh said: "It's been over two years since the VW emissions scandal and ministers have failed to take legal action or secure compensation for drivers, who have been left with a solution that fails to fix the problem.
"This stands in stark contrast to action by US authorities, who have secured billions of dollars in compensation and forced VW to fix cars fitted with defeat devices. Letting VW off the hook cheats the public out of clean air."
Why does nitrogen dioxide matter?
Nitrogen dioxide is a pollutant that strong scientific evidence shows is cutting lives short – and making them harder to live. It has been linked to respiratory and heart conditions, and less conclusively connected to stroke, dementia, cancer and diabetes.
NO2 has a particularly detrimental effect on young children, the elderly and those with pre-existing health conditions.
Road transport is the major cause of NO2, chiefly from diesel engines. But there are many other sources from ships, trains and planes to industry, gas boilers and many types of machinery.
Over the limit
While different vehicles were affected in the US and EU, documents seen by Unearthed show that some of the same popular models – including 2009-14 2.0L Golf cars and 2012-14 Passat cars – were hit in both regions.
Media reports also suggest that the same models of 2009-14 2.0L Beetle and Jetta cars, as well as 2010-14 2.0L Audi A3 and 2013-15 3.0L Porsche Cayenne cars are affected in both the US and Europe. Audi and Porsche, both part of the VW family, are among the brands implicated in the dieselgate scandal.
The regulatory differences also meant that US versions of most those models were fitted with better emissions technology prior to the scandal breaking. This is likely to mean that a fix would need to be different in the two markets.
German told Unearthed: "VW could have applied a stronger fix to all EU models."
On-road emissions of Volkswagen cars were similar in the US and Europe before the fix, he added.
Available data shows that both US and EU versions of the affected cars were many times over official nitrogen dioxide limits in on-the-road tests before the fix.
When the dieselgate scandal was first exposed in the US, tests by West Virginia University showed that cars were emitting up to 35 times over the legal limit for NOx.
A VW spokesperson told Unearthed: "The legal framework regarding emissions in the US differs from the legal framework in Europe. Many of the US vehicles are incapable of being brought into compliance with US law and so will not be subject to a technical measure.
"In Europe, the situation is different. The technical measures are designed to remove any doubt about compliance with legislation. Ultimately, in the UK, it is the customer's decision whether they have them applied to their vehicle or not. The European technical measures have been scrutinised, and approved, by a number of Governmental European regulators."
The firm declined to provide Unearthed with post-fix emissions data of vehicles in the EU and US.
European regulators – the Federal Motor Transport Authority in Germany and the Vehicle Certification Agency in the UK – did not respond to Unearthed's requests for comment.