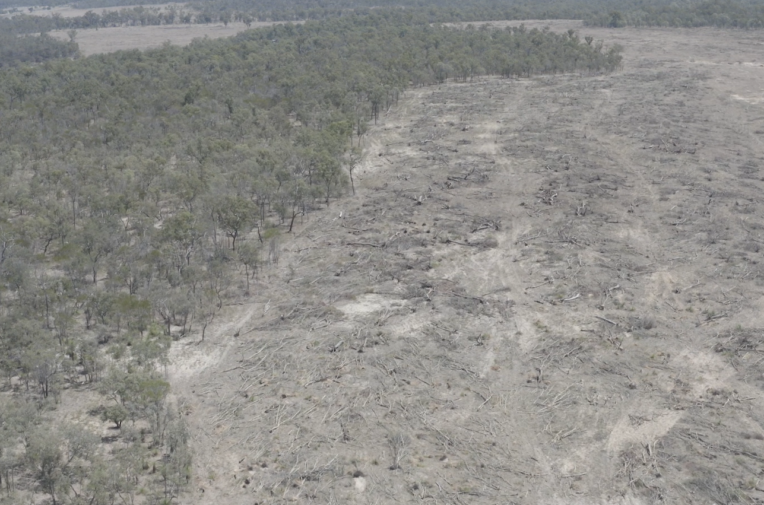 Forest clearing captured in Queensland, 2021. Photo: Mackay Conservation Group
Australian beef industry linked to destruction of forests home to endangered species
Satellite data reveals 'substantial' deforestation ahead of planned UK-Australia trade deal
Australian beef industry linked to destruction of forests home to endangered species
Satellite data reveals 'substantial' deforestation ahead of planned UK-Australia trade deal
Forest clearing captured in Queensland, 2021. Photo: Mackay Conservation Group
Beef farming in Australia is driving significant deforestation, including in the habitats of threatened species, according to a new satellite analysis. 
An analysis of the imagery for Unearthed has identified 13,500 hectares of deforestation since 2018 – an area more than twice the size of Manhattan – across 57 beef cattle properties in Queensland, Australia.
Conservation experts described the level of clearing as "substantial" and evidence of a "really disturbing trend". 
The analysis suggests that despite Queensland passing landmark new laws in 2018 to curb deforestation, loopholes have left some landowners with significant scope to continue large-scale clearances – including some in areas classified as likely habitats for threatened species.
Global meat giant JBS, which has significant operations in the region, including two major feedlots – farming facilities where cattle are fattened up – was unable to say if it supplies meat from any of the properties identified. The firm said it is committed to deforestation-free supply chains, takes allegations of this nature very seriously and would investigate specific allegations.
The findings raise the prospect that UK shoppers could in the future be exposed to deforestation-linked beef, since meat exports are a major element of the UK-Australia trade deal currently under negotiation. An agreement in principle – the first stage of a fully-fledged trade deal – was signed in June, including increasing tariff-free beef quotas for Australia, the world's second-largest beef exporter, over the next decade. 
The trade deal has come under scrutiny after it was revealed by Sky News that UK ministers Liz Truss and Kwasi Kwarteng had quietly dropped commitments on climate change from Britain's demands. 
Shadow attorney general Emily Thornberry, who recently held the trade brief,  said Unearthed's findings were "the most shocking and disgraceful discovery to date about the environmental impact of the proposed deal with Australia, a deal which will allow Australia's agricultural mega-corporations to increase their beef exports to the UK by more than 6,000 per cent in the first year before any tariffs kick in."
She added: "That is an invitation for those corporations to clear thousands more hectares of forest in Queensland, to increase their threat to the koala and other endangered species, and to flood the UK market with vast quantities of cheaply-produced, tariff-free beef.
"Yet not only are Boris Johnson's government doing nothing to stop that through their feeble due diligence laws, they are desperately rushing to sign the deal that will make it all happen."
A global deforestation hotspot
Australia is included in the WWF's list of global deforestation hotspots – the only country in the developed world to make the list. The NGO identifies Queensland as the nation's "deforestation front" – an area with significant concentrations of deforestation hotspots and large areas of forest under threat. 
A 2019 report by the Wilderness Society found that beef is the major driver of this, accounting for 73% of all deforestation in the state between 2013 and 2019. This proportion rose to over 90% in the Great Barrier Reef catchment area, the land area adjacent to the underwater ecosystem.
In 2018, Queensland introduced new laws aimed at curbing deforestation, but the state has yet to release land-clearing data for the years since the laws took effect.
A new satellite analysis conducted for Unearthed in collaboration with the Wilderness Society indicates the livestock industry is still undertaking substantial forest clearing in order to expand land for pasture and grow the size of their herds. 
The majority of the land-clearing identified in this analysis – 70% – was on land that was exempted from a 2018 rule-change that otherwise barred deforestation in areas of "high value regrowth" – forests that have previously been cleared, but which have been regrowing for more than 15 years. 
The forests cleared, which primarily consist of Australia's indigenous trees acacia and eucalyptus –  include habitat for threatened species such as koalas, flying foxes, quolls, and several endangered species of bird and frog.
Dr Martin Taylor, a deforestation expert who formerly worked for WWF, constructed a model that scanned beef properties across the state for possible tree clearing between May 2018, when the clearing restrictions were introduced, and August 2021. Satellite imagery of these areas was then manually inspected by Taylor and experts at the Wilderness Society to exclude false positives. 
Queensland's vast scale – the state is more than seven times the size of the UK – means that a comprehensive survey of all beef properties was not possible. Instead, analysts conducted a rapid, limited search looking for fairly substantial areas of deforestation of woodlands on beef ranches that were more than 15 years old.  This means the investigation likely underestimates the severity of deforestation across the region.
The study found over 13,500 ha of deforestation, across 57 different properties that are listed in the state's land registry as used for cattle breeding, fattening or grazing. 
More than half of the cleared area – 56% of the total, and extending across 54 of the beef properties  – was categorised by the Australian government as "likely" habitat for threatened species. 
Australia classifies land as a "likely to occur" habitat for a threatened species if it is a suitable or preferred habitat for the animal and within an "ecologically reasonable" distance from locations where the animal is known to live.  
Gemma Plesman, Queensland campaign manager for The Wilderness Society, said: "This data isn't surprising as Australia is a deforestation hotspot along with places like the Amazon. In the state that bulldozes the most forest and bushland – Queensland – the state's own data shows that the majority of deforestation is for the beef industry. 
"Millions of native animals, including Australia's iconic koala are killed or left homeless when bulldozers destroy their habitat."
Conservation experts told Unearthed that the findings were concerning, particularly since Australia has the highest rate of mammal extinction in the world. 
Prof Brendan Wintle, a conservation ecologist at the University of Melbourne, told Unearthed that "any clearing" of land was "significant", especially when it had been identified as a potential habitat for threatened species. He added: " We can't afford to be losing that amount of land when we're seeing species declining at the rates that they're declining in Australia."
Wintle described the analysis as "just another piece of evidence that points towards a really disturbing trend". 
He added: "There are ways of growing beef that don't destroy the environment. Broad-scale land clearing is just lazy… you don't have to clear habitats and drive species to extinction in order to get your food."
Dr April Reside, a lecturer in wildlife science at the University of Queensland, said the level of clearing identified by the study was "really substantial", warning that deforestation risked fragmenting and degrading species habitats, leaving them exposed to invasive species. 
Among the 65 species found to be losing potential habitat was the southern black-throated finch, an endangered bird which was found to be losing 364 ha. 
Dr Reside said: "That's definitely something to be concerned about… they've already lost 88% of their original extent. So they've got a very small proportion of habitat left, and what they do have left is highly degraded and is not about finch conservation. And it's still being cleared."
The analysis also identified 5,079 ha of clearing in catchment areas for the Great Barrier Reef, which this summer narrowly avoided being listed as an endangered world heritage site by Unesco, after vigorous opposition from the Australian government. 
Although the main risk to the reef is climate change, poor water quality is also a threat to inshore regions. The Marine Park Authority has found that fine sediments from grazing land are a major source of water pollution on the reef. 
"When forests and bushland are bulldozed in Reef catchments, that pollution runs into rivers and then smothers the Reef," Plesman explained.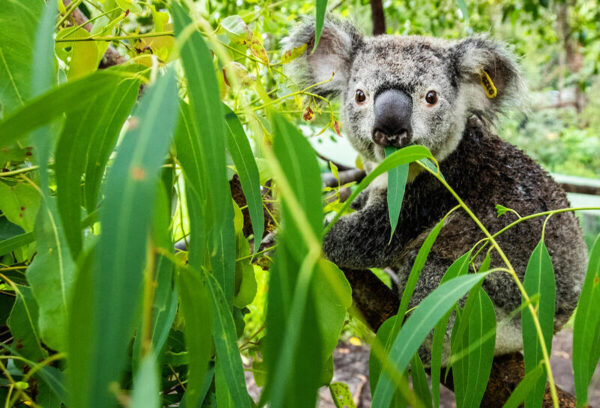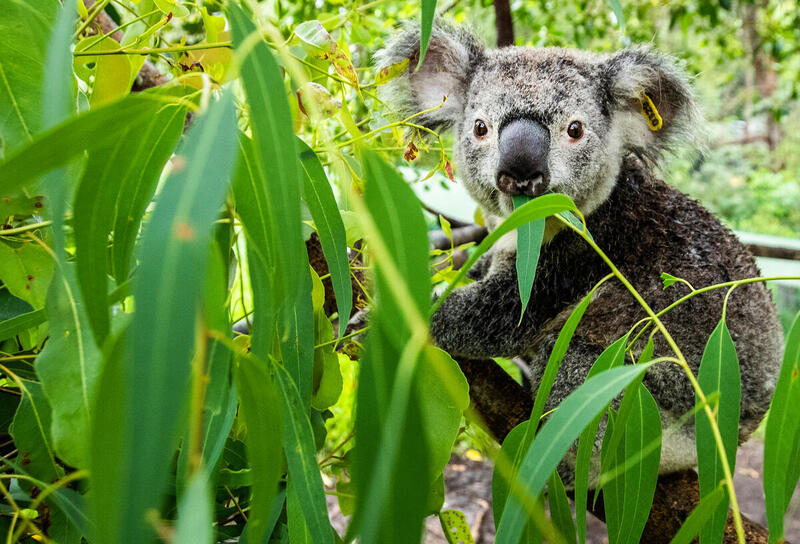 Crucial loophole
The 2018 law change made it far more difficult to clear "remnant" forests – those which have never been cleared. Under the new laws which require a landholder to notify before clearing for certain purposes, forests that have previously been cleared but that are older than 15 years old are supposed to be classified as "high-value regrowth" and also protected from clearing. 
But in a loophole not closed in the 2018 change, the state government has allowed vast tracts of regrowth areas to be locked in as exempt from the new clearing restrictions – including many areas that are likely to be habitats for threatened species. 
More than two-thirds (70%) of the deforestation identified in the study is of forest or woodland mapped as exempt from all clearing restrictions, despite being over 15 years old and even, in some cases, having grown back to maturity. 
A Queensland civil servant who has worked on the subject, speaking on condition of anonymity, told Unearthed that regrowth forests were often vital habitats for threatened species. They "can represent a significant fraction of the remaining extent of endangered ecosystems", he said.
He believed that the decision to set aside large regions of regrowth forest as exempt from clearing restrictions was "a political decision around how much backlash the government was willing to face from rural electorates, basically. There was quite a bit of tension around it already."
Sarah Hanson-Young, Environment spokesperson for the Australian Greens, told Unearthed: "It's not surprising that state laws are failing just like our federal environment laws. Environmental protection laws in Australia need an overhaul so they actually stop land clearing and prevent destruction of our natural places.  
"If we don't halt the destruction, we will continue to witness the consequences with more wildlife going extinct and a warming planet resulting in more catastrophic weather events. The recently completed once-in-ten-year review of these laws by Professor Graeme Samuel declared our laws to be failing and
resulting in Australia's environment being on an unsustainable trajectory. We desperately need stronger laws and an independent watchdog to hold developers, miners and governments to account."
A spokesperson for the Queensland Department of Resources said: "The vegetation management laws that came into effect in 2018 met an election commitment to provide greater protection to high-value remnant and regrowth vegetation and important habitats, including essential habitat for near-threatened wildlife.
"The laws also provide protection to regrowth vegetation near watercourses in all Great Barrier Reef catchments.
"The Queensland Government has continued to improve protections."
She went on to say that in 2020 Queensland had introduced a new prohibition on land clearing within one koala priority area, protecting "almost 390,000 more hectares of koala habitat areas across South-East Queensland".
She added: "Our responsible vegetation management laws continue to protect our valuable environment, habitats and the Great Barrier Reef while allowing landholders to manage and grow farm operations that are fundamental to jobs and our economic recovery post-COVID."
UK trade deal
The legal loopholes that enable swathes of livestock-driven deforestation to remain legal mean that meat products from these properties could be sold to British consumers without falling foul of proposed rules.
The Environment Act recently passed by the UK parliament only tackles deforestation in the supply chain that is illegal under local laws. 
Dustin Benton, policy director for think tank Green Alliance, told Unearthed: "The great weakness [of the Environment Act] is if you're dealing with a government that allows deforestation.
"Nobody wants to be responsible for deforestation. If the rules can't guarantee that, or we can't even get a rider in the UK-Australia trade deal, then they simply don't work." 
The deal could see the amount of beef imports from Australia surge. Under the agreement in principle negotiated earlier this year, Australia will have immediate access to tariff-free quota of 35,000 tonnes per annum, rising to 110,000 over ten years. A far cry from the imported 1,766 tonnes of beef and veal imported from Australia in 2019.
Queensland, the heartland of Australian beef production, exports the majority of its beef: 645,000 tonnes of the one million it produced in 2018.
An NFU spokesperson said: "The NFU has been clear about its concerns over the agreement in principle with Australia, which could see increased imports of Australian goods, produced at much lower costs and at vast scales of production. There has also been no clarity about how the deal works in tandem with the UK's environmental and climate ambitions.
"We believe that the UK's trade policy should champion the climate-friendly food we produce in this country, where we make the most of our maritime climate. Food produced in this way is a far cry from food produced in areas of deforestation or suffering from extreme drought."
A UK government spokesperson said: "With our world-leading Environment Act now law, the UK is committed to go further than ever before to clamp down on illegal deforestation and protect forests.
"Following the COP26 summit, we will maintain the trajectory set by the Glasgow Leaders' Declaration and the Forest, Agriculture and Commodity Trade Dialogue on halting and reversing forest loss and greening global supply chains."
Among the multinational companies with significant operations in the region is the world's biggest meat company JBS, the largest producer in the country. It has two feedlots in Queensland.
In a statement to Unearthed, JBS said: "JBS is committed to deforestation-free supply chains that protect high-value ecosystems and preserve biodiversity. We also recognise that eliminating deforestation from our supply chains is central to reducing greenhouse gas emissions and tackling climate change." 
"We believe Queensland has an excellent story to tell on forest stewardship, resulting from the sustainable practices of Queensland graziers, strong Queensland Government regulatory protections and a world class government-funded monitoring and compliance system. Queensland's forested area has been growing since 2008 and, in our view, it is a low risk region for deforestation."
"We are not familiar with the analysis cited by Unearthed and would be happy to review the data, findings and methods. However, we note that Queensland is a vast State and the area cited by Unearthed represents less than 0.01% of Queensland's total land area."
Unearthed contacted three Australian livestock industry groups – the Red Meat Advisory Council, the Cattle Council of Australia, and AgForce Queensland – but all declined to comment.