2015: The year global coal consumption fell off a cliff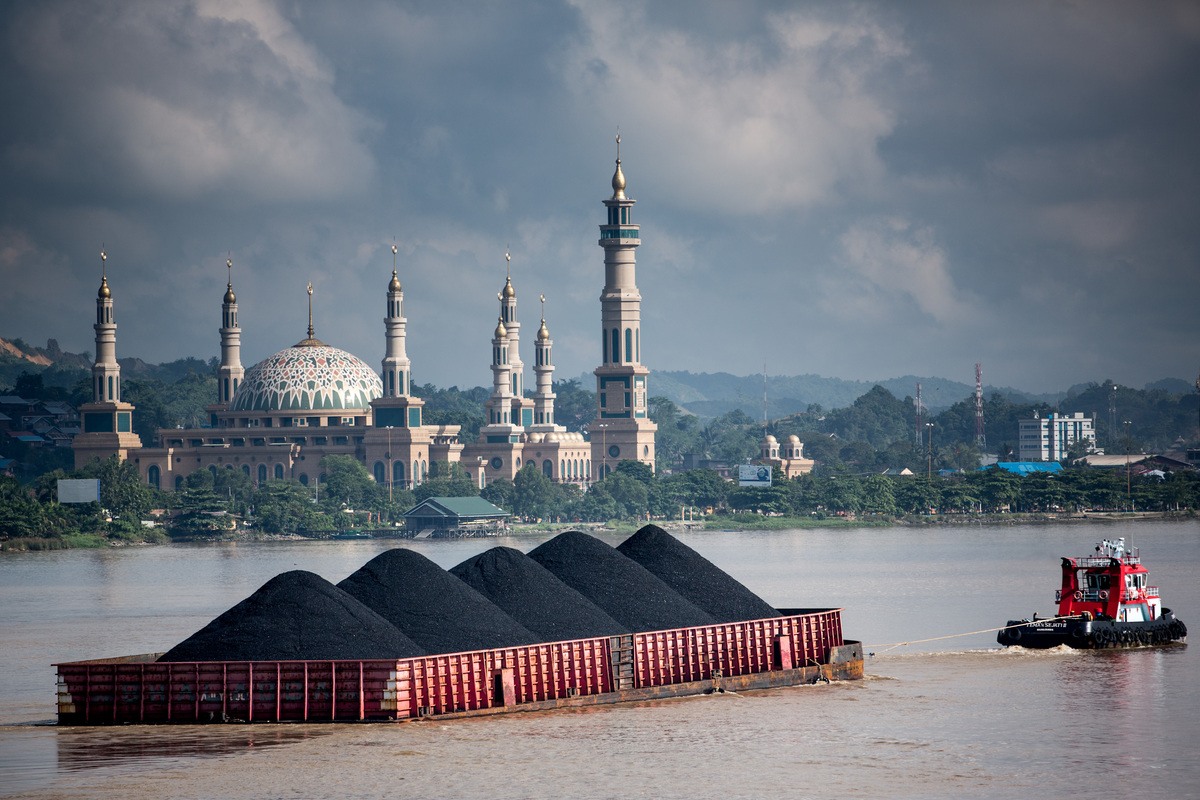 Global coal consumption fell by between 90 and 180 million tonnes in the first half of this year — the largest drop on record.
According to a Greenpeace analysis, between the months of January and September 2015 coal use around the world was down by at least 2.3% and by as much as 4.6% versus the same period last year.
This historic fall was caused by a 'perfect storm' of circumstance: dire fossil fuel economics, rising renewable energy uptake, slowing global energy demand, and China's crackdown on air pollution.
Because this fall doesn't happen without China, by far the largest coal consuming country in the world.
After its rapid coal growth made a dramatic u-turn in 2014, China has seen a massive decline in its use so far this year.
The country's 3-5% fall in the first half of 2015 (43-69Mtce) accounts for more than half of the world's coal consumption reduction.
And yes, this analysis uses the coal stats recently reported on by the New York Times (but covered by us six months ago).
Things are changing elsewhere as well; coal use in the US, for instance, is way down in 2015, with a string of coal plant closures and mine retirements pushing production to its lowest point in three decades.
These shifts have more than offset coal gains in other countries around the world, most notably India, where consumption has grown by around 5% (8-13Mtce)
What's also remarkable is that coal has continued to trend downwards despite global benchmarks falling to record lows.
With the UN climate summit in Paris to kick off at the end of November, you'd imagine all this might come up.
What's happening to coal around the world?

China
So far this century China has been synonymous with coal.
But something changed round the time the world got a glimpse at the country's scarcely believable air pollution problem.
Since the 'airpocalypse' of 2012-13, China has eased off its coal kick, leading to a standstill in consumption last year and 4% fall so far this year — that's more than the UK uses in an entire year.
The government's 'war on pollution' – laid out in 2013 national and provincial action plans – was designed to curb coal use and enforce absolute consumption reductions by 2017.
These plans will be beefed up at the end of the year in the country's 13th 5-year-plan, which some experts expect will call for a national cap on coal consumption.
Air pollution may have been the trigger, but the success of renewables like wind and solar has also impacted the country's need for coal.
In the past 18 months, China's power demand growth has been covered entirely by renewable energy.
That said, China is still building lots of new coal capacity — it's just not using it.
And then there's the more complicated economic shift China is currently undergoing, moving from industry and infrastructure to services and high-end manufacturing.
United States
Coal power in the US fell by 11% between January and July of this year, with natural gas on the cusp of supplanting it as the country's number one source of electricity.
Renewables are also kicking it off the grid.
Coal's role in the generation mix will fall to 36% this year, down from 50% a decade ago, and production is at its lowest point in 30 years.
A raft of power plant retirements and mine closures have put the strain on US firms, a number of which have been forced into bankruptcy.
200 power stations, accounting for a third of the country's coal capacity, have closed or are closing — and there may be even more on the way with President Obama's Clean Power Plan yet to properly bite.
Europe
The EU hasn't had the same significant coal reduction it did in 2014, but neither is there a net gain so far this year.
It's a flat 0.
Germany and especially the UK have made significant coal consumption cuts, just about making up for increased burning elsewhere on the continent.
Such is the size and speed of the UK's move away from coal – it fell an enormous 16% in the first half of the year – that there have been whispers the government is plotting to get rid of it entirely by the early 2020s.
Prime Minister David Cameron has already announced his intention to phase-out non-CCS coal in the next 10-15 years, but several large coal power plants have since said they're set to retire so it may be even sooner than that.
This transition has been accelerated by the introduction of a rising carbon floor price — though it was frozen this year at £18.08 per tonne of CO2.
Germany, Europe's biggest coal consumer, saw a 0.9% decline in thermal fuel generation, which may not sound like a lot but is — especially when you consider power demand actually rose by 2.6%, a slight rebound from last year's fall.
And renewables in Germany continue to grow, up 29% excluding hydro.
Elsewhere in Europe, coal had a bit of comeback as falling generation prices proved too appealing for several countries still trying to kickstart their economies.
It is worth noting, however, that Spain (which saw a massive 70% coal use increase) had unusually low consumption last year.
By and large, coal is still on the way out in Europe.
Read everything you need to know about coal in Europe — in one awesome map
India
The stats for this one aren't quite as concrete, but all signs point to an increase in coal consumption of approximately 5%.
Production in India growing fast, with the big mining firms posting sizeable sales while imports are starting to fall.
India did, however, have pretty thin coal stockpiles at the end of last year and added 15 million tonnes since then — so not all of it is being burned.
Ultimately, although India is certainly ploughing ahead with coal production and coal consumption, its growth numbers (8-13Mtce) are more than offset by what's happening in China and the US.
The rest
In Japan, with power demand down 2.5% in 2015 due to energy efficiency measures, thermal fuel has fallen by 5.2%.
That said, a recent report found Japan as the only G7 country with big coal-fired power plant plans.
Turkey, though it has an astonishing 80 coal power stations in the pipeline, also cut its coal use dramatically in 2015 — down 7%.
South Africa's falling power output suggests a coal decline of around 2%.
Indonesia's coal use is down 1%, same in Mexico.
Canada has eased off coal by 7%, according to IEA data, and Australia's consumption hasn't gone up or down.
There's little info to work with in Russia, but it's a pretty safe bet that the shrinking GDP would lead to lower coal consumption.