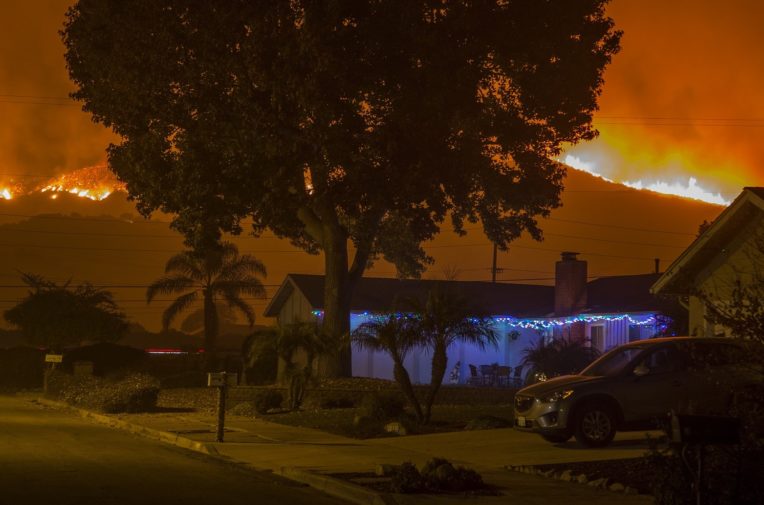 Christmas decorations illuminate a house as the Thomas Fire advances toward Santa Barbara County seaside communities in California. Photo: David McNew/Getty Images
The best environmental journalism of 2017
From the finest American journalism chronicling the worst excesses of the Trump administration to international stories showing the impact of climate change on the developing world, here are the stories we wish we had written this year
The best environmental journalism of 2017
From the finest American journalism chronicling the worst excesses of the Trump administration to international stories showing the impact of climate change on the developing world, here are the stories we wish we had written this year
Christmas decorations illuminate a house as the Thomas Fire advances toward Santa Barbara County seaside communities in California. Photo: David McNew/Getty Images
On our changing climate
Alaska's permafrost is no longer permanent – New York Times, Henry Fountain @henryfountain
This striking New York Times piece is one of those rare pieces of journalism that communicates an issue so effectively and with such clarity that the reader is able to immediately grasp the complex science that too often makes environmental journalism impenetrable.
The perfect storm – Reveal
Hurricane Harvey pummelled Houston in August, and Reveal reporter Neena Satija was there to document the city's unpreparedness for the storm. This piece is a follow-up to 'Hell and High Water', the extraordinary 2016 joint investigation by ProPublica, The Texas Tribune and Reveal.
One of the clearest signs of climate change in Hurricanes Maria, Irma, and Harvey was the rain – Vox, Umair Irfan @umairfan
We were crying out for a piece of forensic reporting setting out the links between climate change and this summer's storms in the Caribbean and southern America, and Umair Irfan delivered. This is the kind of explanatory journalism Vox excels at.
The US flooded one of Houston's richest neighborhoods to save everyone else – Bloomberg Businessweek, Shannon Sims @shannongsims
Another piece on the aftermath of Hurricane Harvey. This cover story from Bloomberg Businessweek gives an insight into what a natural disaster looks like in one of America's most important economic areas. As Sims herself said, this is an article about "what justice looks like in a changing climate".
Why climate change is creating a new generation of child brides – The Observer, Gethin Chamberlain @newsandpics
Stories that connect climate change with real human consequences should be the gold standard of environmental reporting. This piece from the Observer does just that, showing how increased droughts and floods are forcing farmers in sub-Saharan Africa to give away their daughters to stay out of poverty.
'Not a single thing was dry': Mumbai's residents count the cost of floods – The Guardian, Amrit Dhillon and Carlin Carr
Devastating floods in South Asia made for one of the most dramatic environmental stories this year. In this piece, Mumbai residents talk to the Guardian about facing up to the torrential rains.
Mapped: How UK foreign aid is spent on climate change – Carbon Brief, Rosamund Pearce @_rospearce and Leo Hickman @LeoHickman
Rich countries are providing aid to help developing nations adapt to climate change. But how much is being spent? Who is spending it? And where is the money going? Back in October, Carbon Brief set out to answer these questions. A month later, they also mapped how multilateral climate funds spend their money.
On Trump
Under Trump, EPA has slowed actions against polluters, and put limits on enforcement officers – New York Times, Eric Lipton @EricLiptonNYT and Danielle Ivory @danielle_ivory 
While the President's agenda has largely floundered in Congress, EPA administrator Scott Pruitt's efforts to undo Obama-era environmental rules have happened at a rapid pace. This New York Times piece sets out just what the agency has been up to in the first year of the Trump presidency.
Why the scariest nuclear threat may be coming from inside the White House – Vanity Fair, Michael Lewis 
Michael Lewis has done some amazing work chronicling the Trump administration. We could easily have picked his piece on the administration's actions against scientists in the US Department of Agriculture. But with the news dominated by fears over North Korea, this look at US nuclear policy at home was timely and fascinating.
America's climate refugees have been abandoned by Trump – Mother Jones, Kyla Mandel @kylamandel
With Puerto Rico and the Gulf Coast devastated by hurricanes this year, Kyla Mandel reported on the Trump administration's efforts to cut support for American communities at the forefront of climate change.
Bombs in your backyard – ProPublica
It turns out that the US military spends more than a billion dollars a year cleaning up sites its contaminated with explosives and toxic chemicals. Some of these areas are near schools and residential neighbourhoods. We know this because ProPublica went ahead and mapped them.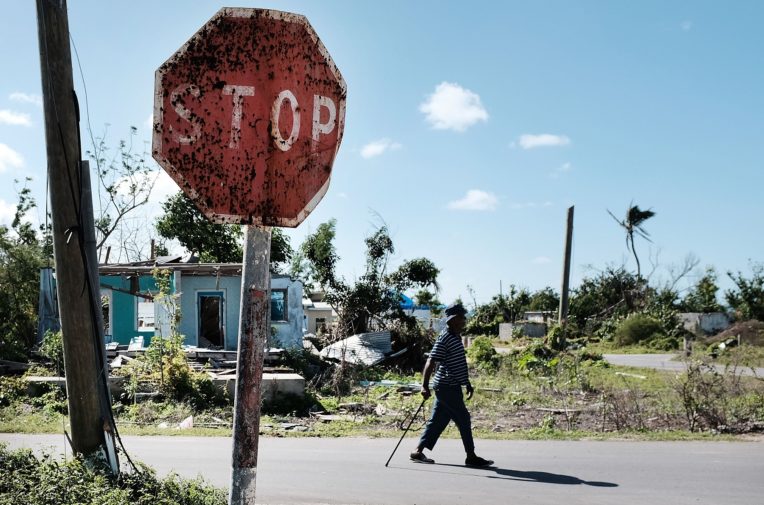 On the shifting energy system
How China floated to the top in solar – Time, Charlie Campbell @CharlieCamp6ell
This was the year the world got serious about green energy, and this feature from Time magazine tells the story of how China became a leader in renewable energy. We liked this line from Sang Dajie, a former coalminer who now works on the world's largest floating solar farm: "The coalmine was very hot and the air was bad. But here I feel safe. The new energy is safe."
The story behind this days-long traffic jam in Mongolia – Quartz, Johnny Simon
China may be leading the world on renewable energy, but it still loves coal. This photo gallery was a clear illustration of the country's energy conundrum.
The race to solar-power Africa – New Yorker, Bill McKibben @billmckibben
Activist and journalist Bill McKibben reported on how American start-ups are competing with Chinese and European firms, and homegrown companies, to provide cheap, reliable power to a continent where fossil fuels have failed to spark development.
The town that disappeared – BBC News, Jenny Norton
Across Russia, hundreds of small towns have been abandoned in the past ten years as coal mining becomes increasingly unviable in the country and the fallout from the collapse of the Soviet Union continues.
Russia-backed hackers try to hijack Britain's power supply – The Times, Aaron Rogan and Mark Bridge
Amid the flurry of concern about hacking in the US election, The Times reported in June that Russian hackers attacked networks running the national grid in the UK. A couple of days later, Motherboard, Vice's sister tech publication, reported that GCHQ believed the hackers had already compromised UK energy sector targets.
On the new and persistent threats to the environment
Series: So I can breathe – BBC World Service
There have been plenty of air pollution stories in the media over the last 12 months, but this series of programmes broadcast across BBC platforms in March caught our eye for reporting on solutions to the global crisis.
Vladimir's Venezuela: Leveraging loans to Caracas, Moscow snaps up oil assets – Reuters, Marianna Parraga and Alexandra Ulmer  
Venezuela's economy is unravelling and, as this special report from Reuters in August shows, the country's socialist government is taking increasingly drastic measures to survive.
Attack of the bee killers – Politico, Giulia Paravicini @giuliaparavicin and Simon Marks @MarksSimon
2017 saw even more scientific research linking bee deaths with controversial pesticides called neonicotinoids. This piece in Politico methodically and forcefully lays out how chemical giants Bayer and Syngenta have lobbied EU politicians for years to weaken regulations.
There's an army of Indian Twitter accounts pushing suspiciously identical pro-mining tweets – BuzzFeed, Mark Di Stefano @MarkDiStef
With Indian mining company Adani seeking support for a controversial coal project on the edge of the Great Barrier Reef, the company's boss Gautam Adani visited Australian prime minister Malcolm Turnbull in April. As BuzzFeed reported, his visit was wildly cheered on by a bunch of definitely real Indian tweeters who all believed that Adani would bring coal jobs to Queensland.
A fight for Brazil's Amazon forest – Financial Times, Sue Branford
Since Michel Temer became president in August 2016, Brazilian politics has been dominated by rollbacks for key environmental and Indigenous protections. In September, as part of the FT's 'Brazil: the Road Ahead' series, Sue Branford reported on the new scramble for natural resources in the Brazilian Amazon.
Environmental defenders being killed in record numbers globally, new research reveals – The Guardian, Jonathan Watts @jonathanwatts and John Vidal @john_vidal
Protecting the environment is an increasingly dangerous thing to do. This research by Global Witness found that in 2016, 200 environmental activists and others protecting their land from destructive industries were killed – and the rate only increased in 2017. This story launched The Defenders, an ongoing collaboration between the Guardian and Global Witness tracking such killings.